Rio Chapter Committee:
For general information please write to: riochapter@braztesol.org.br
Mônica Freire – Cultura Inglesa RJ (President)
Paulo Abreu – Britannia (Vice President)
Mabel Castro – Ibeu RJ (Treasurer)
Agnete Silva – The Scole
Ana Paula Cypriano – Universidade Estácio de Sá, UERJ, SME - RJ
Ana Paula Gasparini – Sociedade Brasileira de Cultura Inglesa (SBCI)
Andréia Fernandes - Cultura Inglesa RJ
Bruno Andrade – BA Inglês Online
Cicinato Carmo - Cultura Inglesa RJ
Isabela Bustamante – Escola Alemã Corcovado
Priscila Mateini - FAETEC RJ
History of the Rio Chapter

The chapter was founded in 2003 when Vera Bradford, BRAZ-TESOL President at the time, invited a group of ELT professionals from several well-known institutions in the city to get engaged in a new task: to promote events aiming at bringing the ELT community in Rio opportunities for professional development. Everyone was thrilled at this perspective for we all knew the importance of BRAZ-TESOL work.
The pioneers in thatendeavorwere Alda Coimbra (Colégio Pedro II), Alice Estacca (CCAA), Bebel Cunha (Colégio Don Quixote), Bill McDavid(CCAA), Janaína Cardoso (SENAC), Inés Miller (PUC), Sheila Lima (Curso Oxford), PatriciaBlower (Cultura Inglesa), and Maria do Socorro Guimarães (Ibeu). Later on, other leading professional in the EFL realm joined the Chapter, and nowadays, the members in the committee are:
Fromlefttoright: Valeria França, Beatriz Berto, Mabel Castro, Patricia Martins e Monica Freire

The Chapter has been very active since it was founded. We organize annual workshops and seminars based on updated themes related to EFL teaching, and also aiming at the promotion of teachers' well-being and the development of their pride in being an EFL professional.For the events, we try to invite guests from other parts of Brazil and the world, so that we provide the Chapter associates with opportunitiesto be in touch with different views and the latest trends and current discussions involving the teaching and learning process.
A recent event, which was very popular was "Relaxed and unwind with teaching". Our special guests were Effrain Diaz, a Senior fellow from Georgetown University / US Department of State, who talked about Project-based learning, and Fernando Guarany, who is the co-founder and current president of the BRAZ-TESOL RN chapter. We also had the Yoga masters from the yoga centre Orlando Cani, who gave tips on how to relax before, while and after teaching a class.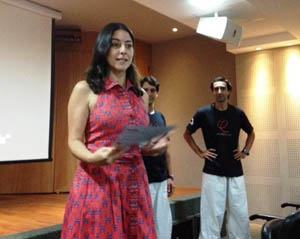 Mabel andYoga Masters from Academia de Yoga Orlando Cani